Have you ever heard about a digital or software bank? Let's have a look at Pearlvine International, the popular software-based bank that facilitates Digital Points based transactions you want to do. With a minimum amount for account opening and a highly secure application, it is becoming one of the most favorite digital banks globally. Let's have a look at Pearlvine International in detail. 
What Is Pearlvine International?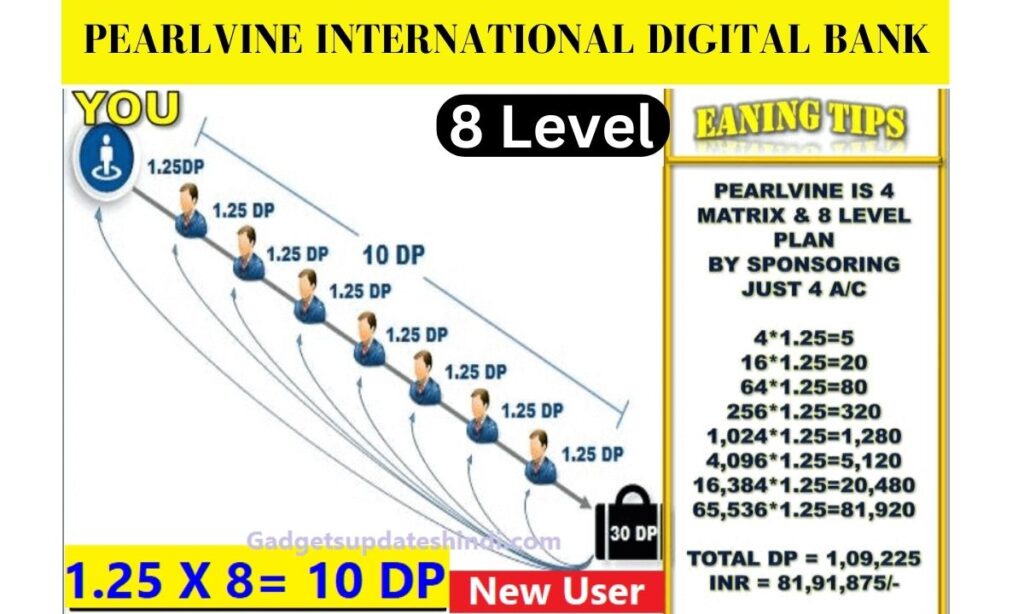 Pearlvine International, also known as digital bank is a worldwide famous digital bank, currently operational in 139 countries. This bank is based on a decentralized software-based system and is widely used to increase digital transactions worldwide. In the interface, transactions happen in the form of a Digital Point where the user can buy or sell using the same medium of DP. Along with its various features such as digital wallet, digital transactions, and e-commerce transactions, it also encourages and enables users to earn money through the marketing feature provided by this application. It facilitates the "refer & Earn" technique and users can earn good money through network or affiliate marketing on the platform. It is becoming one of the prior choices of people in terms of the financial world and many are opting for the same to maintain their financial transactions and system. Pearlvine International was founded by Daniel Johnson in 2018 in the United States of America.
Pearlvine International features
As Pearlvine International is very popular and being used by many people worldwide, it must contain some features being the favorable choice of most people globally. Here are some of the important features, Pearlvine digital bank provides:
In Pearlvine International, you can receive payouts in a matter of seconds. There is no delay in terms of payouts, you need to face.
There is no amount of minimum balance you need to maintain in your account to keep the account operational and the maintenance is also free of cost, provided by the Pearlvine team.
You will get the 24hrs help support with a well and dedicated tech support team to provide you assistance. Users also get an Email facility if they want to avail of tech support and mail the system for any assistance they need regarding the application and its services.
It provides you with a free bank transfer facility through which you can directly transfer money to your bank account.
A Free passbook facility is provided by Pearlvine bank for seamless management of your digital account. You don't need to pay anything extra for availing of this passbook facility.
To maintain the high security of your account, you will get double authentication using OTP and email as well to log in to your account.
This bank provides free-of-cost digital wallet services through which you can transfer seamlessly.
Along with all these finance-based services, the bank provides a Refer and Earn service so that users can earn while using this application by referring it to their contact. It is another step in terms of network or affiliate marketing.
A 12-digit Global ID is provided as an account number from Pearlvine International.
How to signup or log in to Pearlvine International
To signup on the platform of Pearlvine International, you need to visit the official website of Pearlvine.com and click on the signup button available on the interface, There you need to fill up some necessary details and read, agree to the terms and conditions to continue the process. After completing the entire process, you can have access to your digital account at this bank where the above-mentioned services are provided.
If you have already signed up or made an account on the platform, you just need to log in to access your account using some login credentials which you should always keep secure and confidential.
How to activate your digital account on Pearlvine International
Here are the steps provided that can help you in the process of activating your digital account on Pearlvine International.
After opening your account, verify the same with your mobile number through an OTP.
You can say that your digital account on Pearlvine International is successfully opened once you complete the process of verification.
You need to have a total of 30 Digital Points in your account to activate it and make it operational. You can have those 30 Digital Points from the referral account that finds you suitable.
Your account will be easily activated after you have 30 DP in your account and thereafter you can use the services of your account.
Though you can open your account free of cost on the Platform you need some digital points in order to activate it. After activating your digital account, there is no minimum balance you have to maintain to keep it operational.
Types of Income Plans on the Platform
There are three categories of plans available for the users on this Platform. Let's have a look at those:
Basic Plans– The basic plans on Pearlvine International include income such as referral income, Global Auto pool Income, Fastrack Income, and Team performance income.
Royalty plan- The Royalty plan includes Fortune Wallet.
Bonanza 2022- It includes Big Bonanza 2022 Auto pool and Bonanza Team Performance.
The security system of Pearlvine International
Pearlvine International provides a good security system for its users to make sure that their digital accounts will be secured and not prone to cyber-attacks. The Pearlvine system is very less or not at all prone to cyber-attacks.
Here are some of the features of its security system
Pearlvine International uses a Peer-to-Peer based technology. The peer-to-peer technology is highly secure to use making the overall experience of this platform, safe and secure.
It has its own domain name and server name making it tough for hackers to hack the system.
It uses CloudFlare server security to make sure that your account is safe and secure from cyber-attacks.
Pearlvine software is provided with unlimited cloud storage.
24-hour tech support is provided by Pearlvine team to keep the account secure and provide assistance to the users.
Conclusion
Pearlvine International is a worldwide popular digital bank, providing users a way to do digital transactions using digital points, Your account is highly secure here as they are highly dedicated to keeping the security system of the platform free of cyber crimes. Along with that, it provides you with a way to make income and manage your financial needs. To use this system, you have already acoount then you need to pearlvine international login process and now your account activated your account. Your account is all set to use after the process of verification using OTP and activation using 30 digital points.